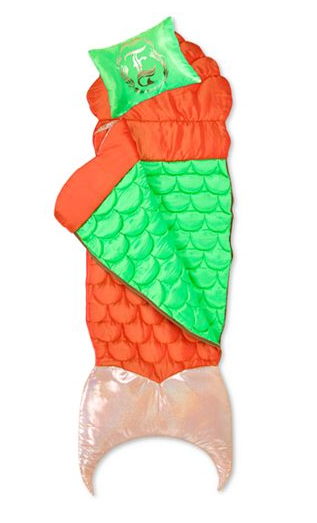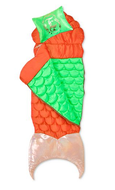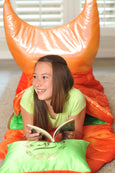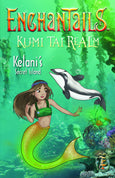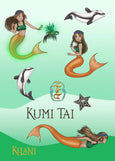 Deluxe 5-Piece Mermaid Slumber Bag Set - Mermaid Kelani
$ 79.99 $ 99.99
Product Description: 
Experience a truly enchanting sleepover with the Deluxe 5-Piece Mermaid Slumber Bag Set - Mermaid Kelani, brought to you by Enchantails! Slip into the magical realm of mermaids, where playtime merges with dreams and destiny awaits!
Our exclusive Enchantails slumber bags are designed to ignite imagination and create hours of endless fun. With their mesmerizing mermaid tails, your little one will feel like a Royal Mermaid Daughter of Oceana, creating unforgettable role-play adventures and sweet dreams. Each bag features a tail intricately designed with rich, vibrant colors, luxurious fabrics, and even glow-in-the-dark thread. Step into the realm of Mermaid Kelani and experience the magic come to life!
Features
Tail and colors designed to reflect a specific realm of Oceana

Deluxe Slumber Bag featuring Glow-in-the-Dark Thread

Coordinating Easy Carry Tote with pockets

Includes Matching Decorator Pillow

Includes Mermaid Wall Decals, featuring matching Royal Mermaid Daughter and Sea Buddy

Includes "Enchantails" Royal Mermaid Daughter adventure paperback book

Orders accepted after 2 p.m. EST on Fridays will be shipped on Monday
Crafted with utmost attention to detail, our slumber bag set is the perfect companion for sleepovers, camping trips, or simply cozying up at home. Each set includes a beautifully designed, high-quality slumber bag, with a matching pillowcase and eye mask, all featuring the breathtaking imagery of Mermaid Kelani and her realm. Complete the set with the included handy storage bag, ensuring that your child's magical mermaid adventures are always ready to go!
Make bedtime an extraordinary experience with the Deluxe 5-Piece Mermaid Slumber Bag Set - Mermaid Kelani. Let your child's imagination swim free as they explore the depths of the sea, accompanied by the enchanting tales spun by the Royal Mermaid Daughter. 
Specs
Slumber Bag Materials:
Outer fabric: 59% Nylon/41% Polyester 

Inner fabric: 100% Polyester 

Kelani tail fabric: 100% Polyester

Fill: 100% Polyester
Decorator Pillow Materials:
Face: 100% Polyester

Back: 59% Nylon/41% Polyester

Fill:  100% Polyester

Size: 16" wide x 12" long
Easy Carry Tote Materials:
100% Polyester with 59% Nylon/41% Polyester

Size: 27.5" wide x 23" long + 9" handle